About us
We have better services in this city for features
Populace India started out in 2018 primarily as a design firm with aspirations of working in the special effects industry. We soon figured out that we couldn't crack the West Coast from here and turned to a new emerging media: The Web.
Even back then, we knew the web was going to be an integral part of business, but we had no idea that it would flourish to what it is today.
We stuck strong to our roots of creating dynamic content, design and development and even survived the .com bubble. We knew The Web would still stand strong and be a source for showing our ability to do great things.
Today, despite being predominantly a website design company, we have grown to not only create great websites, but we also create great interactive KIOSKs, mobile apps, extranets, intranets, desktop software, e-commerce platforms, and more.
Even though there isn't as much of a call for print design these days, we still have some clients who have the need and our art directors are here to create award-winning print ads, book covers, illustrations, brochures, and more.
History
We have a great history for our company
Start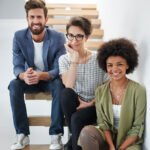 Funfacts
We are enriched with our awesome funfacts
Our best services to keep you on the top. Have you done the Google search? Your experience tell you the top.